ANNAN THAMBI MALAYALAM
Watch Annan Thambi for Mammootty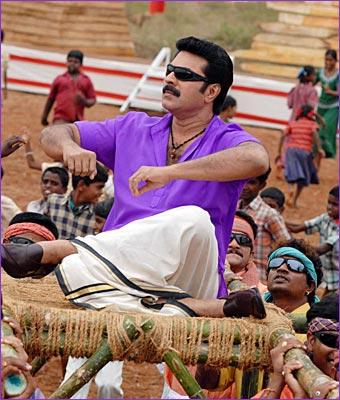 Director :- Anwar Rasheed
Producer :- Shahul Hameed Marikkar ,Anto Joseph
Music :- Rahul Raj
Lyrics :- Vayalar Sharat Chandra Varma, Bichu Thirumala, Santhosh Varma
Starring :- Mammootty, Gopika, Lakshmi Rai, Siddique, Suraaj Venjaramoodu, Salim Kumar, Rajan.P.Dev, Manianpillai Raju,Master Monu, Master Sonu, KPAC Lalitha, Urmila Unni
W
hen the hero's entry is greeted with a shower of marigolds, we can easily gauge the tone of the film.
Especially if the location happens to be the buzzing Pollachi market, where a dozen goons beat up a poor soul and try to rob him. We know then that the film is in the
Thenkashipattanam
format, where superstars bond in an alien land and establish their supremacy over the locals.
But this week's Malayalam release,
Annan Thambi,
is different.
The writer-director team of Benny P Nayarambalam and Anwar Rasheed (their second outing after
Chotta Mumbai
make it breezy and entertaining in spite
of staying in the formulaic sphere.
It is the story of twins, played by Mammootty, who are at loggerheads with each other since the time they were born.
The film begins on a serious note with a murder committed by a child. But things become lighter as the film progresses, and the twins grow up. One is sent to Pollachi with his uncle and other stays back with his parents. One is dumb and the other is verbose. The comic situations rise above the mere case of mistaken identities.
Anwar deserves kudos for tapping Mammootty's comic flair. With the support of Benny, he gives the actor some hilarious situations and lines. And it is really heartwarming to see the superstar's spontaneity in handling these scenes.
Mammootty is ably supported by comedians like Salim Kumar, Suraj Venjarammoodu and Harisree Asokan. Leading ladies, Gopika and Lakshmi Rai, don't have much to do.
The only grouse we may have against Anwar Rasheed is that he sticks to the formula of his first film Rajamanickamthat somewhat stifles Benny P Nayarambalam's style.
But just Mammootty's comic flair makes Annan Thambi a worthy watch.
MP3 SONGS
Tracks:-
Chemban Kaalae [Jaasie Gift]
Raa Chaakkanu Pekkaali [Afsal | Pradeep Pallurutty]
Kanmaniyee punyam nee [Vineeth Sreenivasan]
Pakalakannu Poyi [Ganga]
Aaro Nee Aaro [Srinivas]
Pularkaala Vela [Vandanamenon]
Kaikkudanna [Madhu Balakrishnan]
Pakal Akannu poyi [Ranjith | Ganga]
Downloading Links:-
Tags:ANNAN THAMBI MALAYALAM MALAYALAM TOP HITZ OF 2008 Hot Photos MALAYALAM TOP HITZ OF 2008 Sexy Photos MALAYALAM TOP HITZ OF 2008 boobs of MALAYALAM TOP HITZ OF 2008 cleavage MALAYALAM TOP HITZ OF 2008 Naked photos MALAYALAM TOP HITZ OF 2008 nude photos MALAYALAM TOP HITZ OF 2008 MALAYALAM TOP HITZ OF 2008 Bikini MALAYALAM TOP HITZ OF 2008 Nipple Slip MALAYALAM TOP HITZ OF 2008 scandal MALAYALAM TOP HITZ OF 2008 Bra MALAYALAM TOP HITZ OF 2008 Without Dress MALAYALAM TOP HITZ OF 2008 saree removing MALAYALAM TOP HITZ OF 2008 Removing clothes dress MALAYALAM TOP HITZ OF 2008 personal website MALAYALAM TOP HITZ OF 2008 orkut profile MALAYALAM TOP HITZ OF 2008 thigh show MALAYALAM TOP HITZ OF 2008 armpit MALAYALAM TOP HITZ OF 2008 wallpapers MALAYALAM TOP HITZ OF 2008 Exclusive Photos MALAYALAM TOP HITZ OF 2008 Unseen Photo MALAYALAM TOP HITZ OF 2008 personal details MALAYALAM TOP HITZ OF 2008 phone number MALAYALAM TOP HITZ OF 2008 Award Show MALAYALAM TOP HITZ OF 2008 Boobs Slip MALAYALAM TOP HITZ OF 2008 Nipple Visible MALAYALAM TOP HITZ OF 2008 Latest Photos MALAYALAM TOP HITZ OF 2008 kiss smooching MALAYALAM TOP HITZ OF 2008 Boobs Press MALAYALAM TOP HITZ OF 2008 Boobs Kiss