PAZHASSIRAJA-THE BEST MALAYALAM FILM OF 2009
Pazhassi Raja creates history in Malayalam cinema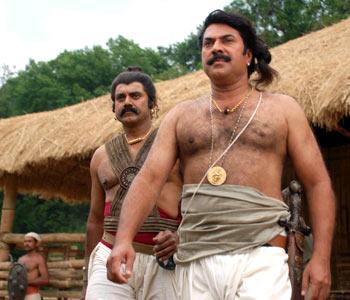 After looking back at the year end 'balance-sheet', Malayalam filmdom can heave a sigh of relief.
No, we are still not near those glorious times in the past when Malayalam films set fascinating standards. Yet there were some aspects to cheer about.
For example, Pazhassi Raja made the movie world sit up and watch the industry with certain awe.Kerala Cafe was a welcome experiment, especially in an industry which is generally reluctant to tread beyond accepted lines. Bhramaram gave Mohanlal something to cheer about while Adoor's Oru Pennum Randaanum was a nice film. Debutant Ranjith Sankar announced his arrival with Passengerand even though films like Kutty Sranku and Sufi Paranja Kadha haven't hit the theatres yet, their selection to prestigious film festivals are encouraging.
So, here without further ado is a look at the six which rock 2009.
Film: Pazhassi Raja
Director: Hariharan
Cast: Mammootty, Sarath Kumar, Kaniha
It took some years in the making but it was worth the wait.
Malayalam cinema has not seen a film on this scale for a long time. Easily the costliest Malayalam film ever made,Pazhassi Raja lived up to its lofty expectations. M T Vasudevan Nair's script and Hariharan's direction were the highlights of the film where Mammootty looked perfect as the ruler who fought against the British.
Sarath Kumar, as the chief lieutenant Edachena Kunkan was apt for the role. Manoj K Jayan, Padmapriya and Kaniha also performed well in their roles.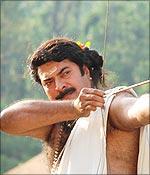 T
he initial response when you come out of the theatre after watching the hugely mounted Malayalam film
Pazhassi Raja
is pleasant surprise. Until now we have only heard complaints of financial constrain from the filmmakers for low production values and haphazardly put up story lines.
But this movie made on a budget of average ten Malayalam movies, has a quality that has never been seen before.
It is the tale of a historical superhero, narrated in a typical filmi fashion with many moments that stir up excitement in the audience. Pazhassi Raja (Mammootty) is said to have revolted against the British even before the famous revolt of 1857 began. His oft-repeated argument is -- should people who came to trade pepper and cardamom be allowed to govern us?
M T Vasudevan Nair's script has lots of cinematic moments that give scope to use Mamootty's megastar image to good use as a person who uses the capability of people from different sections of society to fight the foreign intruders.
Pazhassi who has been termed as revolutionary by the British uses techniques of guerrilla warfare against them. For this he avails the expertise of tribals lead by Thalakkal Chanthu (Manoj K Jayan). There are other people also who unflinchingly support him like Edachena Kunkan (Sarath Kumar), who is his commander-in-chief.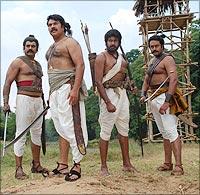 This film is technically several notches above the standard fare offered in Malayalam cinema. It would not be an exaggeration if we say that it is comparable to the best in Indian cinema.
The camera work by Venu and Ramanath Shetty give the film a sleek look. The action sequences remind us of the internationally acclaimed Chinese martial art movies of recent times like Crouching Tiger, Hidden Dragon and Hero.
Mamootty may be the hero of this film but, he does not hog the limelight. There is ample scope for other stars like Sarath Kumar and even Manoj K Jayan to exhibit their histrionic skills and use their star aura.
The ensemble of the supporting cast is also used well. Padmapriya as Neeli, who is engaged to Thalakkal Chandu has good scope to do action sequences.
If we wish to go into nitpicking, we can say that sentimentalism bogs down the pace. But that is only a minor glitch considering the overall finesse of the product.
The reunion of the team who gave us the classic Oru Vadakkan Veeragatha has a winner on its hands, if not a classic of the same proportion
Tags:PAZHASSIRAJA-THE BEST MALAYALAM FILM OF 2009 MALAYALAM TOP HITZ OF 2009 Hot Photos MALAYALAM TOP HITZ OF 2009 Sexy Photos MALAYALAM TOP HITZ OF 2009 boobs of MALAYALAM TOP HITZ OF 2009 cleavage MALAYALAM TOP HITZ OF 2009 Naked photos MALAYALAM TOP HITZ OF 2009 nude photos MALAYALAM TOP HITZ OF 2009 MALAYALAM TOP HITZ OF 2009 Bikini MALAYALAM TOP HITZ OF 2009 Nipple Slip MALAYALAM TOP HITZ OF 2009 scandal MALAYALAM TOP HITZ OF 2009 Bra MALAYALAM TOP HITZ OF 2009 Without Dress MALAYALAM TOP HITZ OF 2009 saree removing MALAYALAM TOP HITZ OF 2009 Removing clothes dress MALAYALAM TOP HITZ OF 2009 personal website MALAYALAM TOP HITZ OF 2009 orkut profile MALAYALAM TOP HITZ OF 2009 thigh show MALAYALAM TOP HITZ OF 2009 armpit MALAYALAM TOP HITZ OF 2009 wallpapers MALAYALAM TOP HITZ OF 2009 Exclusive Photos MALAYALAM TOP HITZ OF 2009 Unseen Photo MALAYALAM TOP HITZ OF 2009 personal details MALAYALAM TOP HITZ OF 2009 phone number MALAYALAM TOP HITZ OF 2009 Award Show MALAYALAM TOP HITZ OF 2009 Boobs Slip MALAYALAM TOP HITZ OF 2009 Nipple Visible MALAYALAM TOP HITZ OF 2009 Latest Photos MALAYALAM TOP HITZ OF 2009 kiss smooching MALAYALAM TOP HITZ OF 2009 Boobs Press MALAYALAM TOP HITZ OF 2009 Boobs Kiss